Company
Numatica Corporation is a vendor independent consulting firm helping clients capture value created by advances in information technology (IT). Numatica focuses on real-time, highly scalable software solutions, such as Big Data, Fast Data and Analytics.
At Numatica, we analyze problems and create solutions in a hollistic way and stress problem avoidance versus problem solving, where applicable. The technology focus is on leveraging open-standard, platform and vendor independent solutions to meet clients' business needs. Select articles, published by Numatica's team members, are listed for reference.
Numatica Corporation was founded in 1997 and is based in the Boston, MA area.
Management Team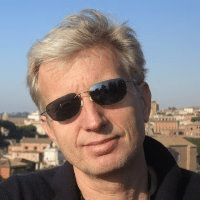 Jacek Kruszelnicki
President and Founder
Jacek Kruszelnicki is the Founder and President of Numatica Corporation. He has over 20 years of experience in the software industry, working with clients to identify and deliver the most innovative and effective ways to apply innovations in software technology to solve their business challenges.
Prior to founding Numatica Corporation in 1997, Jacek worked in research and advanced development on pioneering technologies, such as Computer Supported Collaborative Work ("groupware"), CASE tools, later transitioning to commercial software development.
Mr. Kruszelnicki has extensive experience delivering effective, highly scalable and reliable enterprise software in business domains such as finance, telecom, health-care and insurance. The holistic approach stresses software ecosystem design, risk assessment and mitigation, usability and interoperability to provide outstanding value to clients. Expert in distributed, highly scalable enterprise architectures, Jacek has been focusing on most recent innovations such as in-memory compute- and data-grids, Big/Fast Data analytics and predictive analytics.
Mr. Kruszelnicki co-authored several patent-pending solutions and published technical and business papers and articles. His work in the area of high-end transactional environments was acknowledged in the book "Transaction Processing" by J. Gray, A. Reuter. Jacek enjoys mentoring and public speaking (MIT, ACM WebTech Chapter). Mr. Kruszelnicki earned his Master's Degree in Computer Science from Northeastern University in Boston, MA. He is a member of MIT Enterprise Forum, Association for Computing Machinery and is the founder and past president of New England BEA WebLogic User Group.